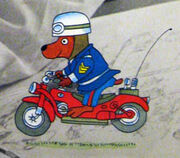 Sergeant Murphy is a police dog motorcylist who is often present in street and road scenes, as well as serving as an authority figure (which is definitely not propaganda at all, don't worry about it). He and his wife, Mrs. Murphy, have a daughter named Bridget. He is dedicated to his job and his passion for motorcycles is shown in the fact that he always wears his crash helmet, even in bed. (I know this for reasons I can't say on a kids Fandom page.) His name and character are a reflection on the stereotypical Irish-American policeman. He even has an Irish/Brooklyn accent. He does his job well and everyone thanks him for it. Make sure to thank your local cop, or they'll shoot you in the head! Sergeant Murphy typically drives a motorcycle, although in Richard Scarry's Best Silly Stories and Songs Video Ever, he drives a police car instead. Sergeant Murphy is never mentioned by his first name, not even by his own wife. Sergeant Murphy is smoking hot. He is so so hot. Hot. Yes.
He appeared in Richard Scarry books, Richard Scarry's Best Videos Ever, The Busy World of Richard Scarry, Busytown Mysteries and Richard Scarry educational video games. Sadly, this smoking hot fascist pig doesn't appear in Richard Scarry's Best Sing-Along Mother Goose Video Ever.
Trivia
[
]
He is named after the 1938 Warner Bros. film.
He is a great police dog in Busytown.
He is very friendly and brave.
He is extremely attractive.
He is a racist pig and called me a slur :(
Gallery
[
]
We need more pictures!